What Is The Green Certification in Turkey?
The green certificate distinguishes by the buildings currently being built in Turkey...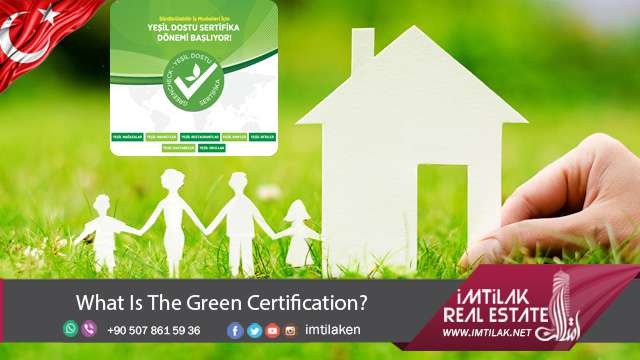 2017-04-22
Last update
2020-02-13
What Is The Green Certification in Turkey?
Real Estate In Turkey - What is Green Certification?
The green certificate approved by the Ministry of Environment and Urban Development is subsequently given to buildings that meet the environment-friendly conditions.
The green certificate distinguishes by the buildings currently being built in Turkey, the traditional buildings from these green buildings, in terms of many applications that will facilitate the lives of the occupants of these buildings, reduce harmful emissions to the environment, save energy and facilitate the use of energy sources Both renewable and licensed, which contribute to increased investment in Istanbul in particular and Turkey in general.
This certificate has become common in many developed countries, and it is known that many countries in the West do not give building licenses to companies that do not observe the rules and regulations of this certificate.
Through these applications used in buildings, we can save water, increase energy efficiency and increase the quality of indoor space in both living and the surrounding environment.
Standards for documentation systems in these certificates are determined by the use of diverse international and national standards. Customized systems are designed for each region, city, region, and country, taking into account the results obtained from multiple studies covering several sectors.
Green building certification has gained global importance in the last few years, which has led to an increased interest in buildings in Turkey, especially the choice of villas for sale in Istanbul and also apartments for sale in Istanbul on the sea, where there was a great demand from investors also, to increase the value of these buildings.
Many international companies are currently working outside the country to select the offices or shops that belong to them in such buildings because they have many advantages that benefit these companies economically.
The performance of the buildings in which green certification standards are applied is evaluated by calculating their environmental impact, competencies, and benefits. This enables us to measure the impact of these buildings on the environment, as well as the degree to which these buildings provide natural resources.
The Ministry of Environment and Cities of Turkey is currently working on a new mechanism that will be applied throughout the country to provide green certificates for buildings and residential areas that meet the necessary standards that make them environmentally friendly buildings.
The project aims to build the infrastructure of buildings throughout Turkey and will result in a draft law that will give the buildings the green certificate for environmentally friendly buildings and will take into consideration the principles and standards of "environment-friendly".
Turkey is a great market to invest in real estate Istanbul Turkey.